29 Feb
Hardcore Choppers Launches New Custom Apparel Store, Offers a Variety of Unique Products
After the successful launch of a new website early last year, Hardcore Choppers has continued to expand the site's functionality. The new site now features a store section, where fans will be able to purchase high-quality screen print and embroidered clothing items.
Sterling, VA (PRWEB) February 17, 2012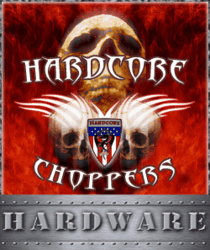 The expansion of Hardcore Choppers over the past 16 years has been focused around bringing customers the best products in the industry, while maintaining a price point that can't be beat. After enjoying continued success over the years, the company has firmly established itself as a brand name within the market – a fact which has recently lead to considerable demand for Hardcore Choppers apparel and logo products.
Hardcore Choppers is excited to announce the launch of their new online-based store; Hardcore Choppers Hardware, which will enable customers and fans alike to purchase a variety of Hardcore Choppers'-branded items. The products, which range from standard logo tees, to exquisite hand-stitched leather riding jackets with full-color embroidery, offer enthusiasts a great way to ride in style while displaying support for their favorite custom chopper manufacturer.
Navigation through the store is quick and easy, employing a fast and secure checkout process through PayPal®. Many items feature a wide range of color and size options, and all products sport the flashy new 2012 Hardcore Choppers' "wings" logo.
For a complete list of items which are now available for immediate sale, visit the Hardcore Choppers Hardware Store online.