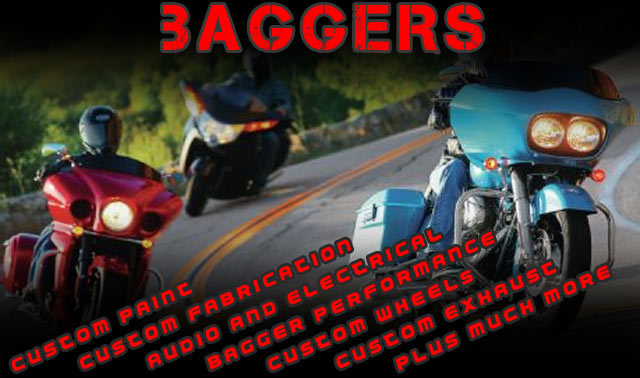 For 18 years Hardcore Choppers has SPECIALIZED in H-D Bagger, Bagger Retrofit, and Custom Bagger audio, electronics, customization, and custom paint.
.
..

..

..

Custom Fabrication:
21″, 23″, +more front wheel conversion options.
Drop seat, lowering, air suspension, and lowered fender options.
Custom bag designs, exhaust cut-outs, and more.
.
Custom Paint:
Fender/tank designs from flames to complex artwork.
All-over artwork designs, including bags and fenders.
All-over resprays, custom pearl, metallic, flake, and show paint finishes.
.
Audio & Electronics:
In-house electrical experts.
Fire-resistant aircraft-grade conduits, wires protected & run internally.
Custom audio systems, GPS systems, iPhone / charging systems, passenger VOX / helmet communication systems, bluetooth audio/cell systems and more!
Custom subwoofer, speaker, and amplifier installs in bags.
Custom high-capacity charging system and battery design options.
.
PLUS MUCH MORE:
Custom front ends
Custom in-house exhaust fabrication
Wide-tire conversions
Performance & motor work; big bore, cams, + more
Sheet metal & fairing modification / design
.

.