05 Feb
Custom Motorcycle Manufacturer Hardcore Choppers Announces… Launch of Custom Chopper Kits and Rollers
With 16 years of experience building high-end custom choppers, Hardcore Choppers is now expanding their production to include customizable bike kits and rolling chassis kits.
Sterling, VA (PRWEB) February 22, 2012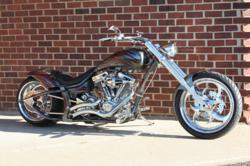 Hardcore Choppers has been growing steadily over the past decade and a half; an evolution which has seen their choppers become one of the leading options for discerning enthusiasts all around the world – both in style, customization, and reliability. With the launch of their new bike kits and rollers, Hardcore Choppers hopes to reach out into a new market segment, offering manufacturing experience and quality fit-and-finish to customers who want to build their own motorcycle from the ground up.
All frames and kits include a manufacturer's MSO and 17-digit VIN # – no special construction permits are required. Kits come complete with a fully mocked-up frame, and include options such as sheet metal (front and rear fenders, gas tanks, oil tanks, and more) as well as a variety of front ends seat options. Conventionally, bike kits and rollers have offered intriguing price points, but leave customers stranded when it comes to assembly and component fitment. Hardcore Choppers has recently completed an exhaustive CAD design and testing program to ensure that all kit components will fit correctly the first time. Customers also have the option of buying kits which include all of the main components they will need for assembly, which further reduces the challenge of building their own chopper.
Hardcore Choppers will be releasing their kits and rollers at special introductory prices this spring, with rollers starting at $5,995 and bike kits starting at $16,995. For more details visit https://hardcorechoppers.com or call 703 – 464 – 0494.